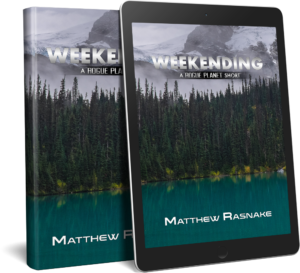 The Rogue Planet Series
For the Not-kid Types
Rogue Planet is an upcoming near-future sci-fi disaster novel featuring Mel Barber and Leala Pendrova who must survive a dying Earth and an unforgiving Mars long enough to save their families and preserve humanity. The novel is currently out on query with several agents, and book two is in active development.
The short story Weekending (~5k words) is set concurrent with the events of Rogue Planet, and featuring characters from the novel.
College buddies Nolan, Tom, and Grant set out for a weekend of camping in the mountains of northern California, anticipating a couple quiet days of fishing, reminiscing, and carousing. Everything's going well until they're roused from their tent on the first night to find that the sky, the mountain, and the Earth herself have turned against them.