the Christ of my Confusion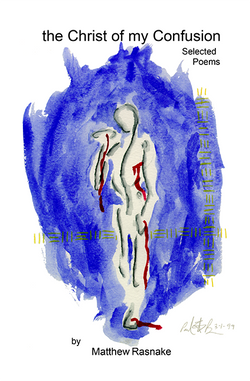 A book of selected poems by Matthew Rasnake, written over a decade from the late '80s to late '90s, which deals with the tumultuous coming-of-age of a young man from a small town.
The book features art by Jim Kuczun, Nathan Steele, Brendan Post, and Paul Brown.
This second edition was offset printed and professionally bound in April 2004, and limited to 100 copies. The first edition was printed and hand-bound by the author in 1999, and limited to 25 numbered copies.
Contained within are:
Sixty-five poems in five thematic sections
Eighty-one pages
Twelve illustrations including the cover image by Paul Steven Brown
---
Publisher:
Savant-Garde Press
Available in:
Paperback
Publish Date:
June 2004
$10.99
Direct From the Author
Elsewhere
Book Love